International Exchange and Cooperation Concerning Rehabilitation of Persons with Disabilities
EXCHANGE AND COOPERATION WITH REHABILITATION INTERNATIONAL (RI) HEADQUARTERS
RI,which 130 organizations in 80 countries are affiliated,aim at the promotion of exchange between rehabilitation specialists and persons with disabilities.
Activities of RI Regional Committee for Asia and the Pacific
RI is divided into six geographical regions. Japan belongs to the RI Regional Committee for Asia and the Pacific. This committee counsels the United Nations Economic and Social Commission for Asia and the Pacific (ESCAP) in its capacity,as a member of the Thematic Working Group on Disability-related Concerns under the ESCAP.
PROMOTION OF INTERNATIONAL COOPERATION PROJECT
Bilateral exchange and cooperation
JSRPD promotes exchange views and knowledge especially on project support. The joint projects implemented under this scheme includes Korea-Japan exchange,a joint project with Hong Kong,one with a Philippine group of persons with disabilities,and a handicraft workshop with Cambodians with disabilities.
Cooperation for various other projects
JSRPD provides assistance in Community-Based Rehabilitation (CBR) activities and projects in prosthetics,orthotics and welfare equipment,mainly in the Asian and Pacific region.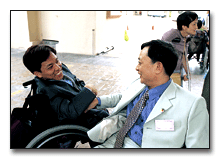 COOPERATION WITH RANAP (Rehabilitation Action Network for Asia and the Pacific)
In order to facilitate information exchange and friendship,RANAP was founded in 1991 by ex-participants of the Leadership and Expert Training Courses from 20 Asian and Pacific countries. Its activities include publication of newsletter and journal,and annual meetings in different parts of Asia.

COOPERATION WITH JANNET (JAPAN NGO NETWORK ON DISABILITIES)
For the NGOs in Japan that are engaged in cooperation and exchange programs with developing countries in the disability field to be more effective and realistic in meeting the needs of each country,Japan NGO Network on Disabilities was established in 1993. Exchange of information and cooperation through this network will enable the member organizations to implement their programs more effectively.
PROMOTIONAL ACTIVITIES OF THE ASIAN AND THE PACIFIC DECADE OF DISABLED PERSONS
To promote the Asian and Pacific Decade of Persons with Disabilities adopted by the United Nations ESCAP resolution,JSRPD supports the NGO Conference organized by Regional NGO Network for the Promotion of the Asian and Pacific Decade of Persons with Disabilities (RNN). More specifically,RNN holds annual campaign conferences and has sponsored a logo contest,a theme song contest and a poster contest to promote public awareness of the Decade.
HOLDING OF SEMINARS ON INTER-NATIONAL COOPERATION IN THE DISABILITY FIELD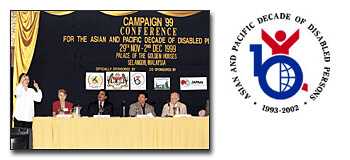 Governments and private organizations are increasingly and actively involved in their activities of international cooperation in the disability field. To facilitate the coordination among relevant organizations/persons,JSRPD takes up the updated topics essential in implementing international cooperation,and carries out planning and organizing for the holding of seminars.
THE UN ESCAP adopted this logo,which was selected among 171 entries at the judging of the Logo Competition held at Campaign,'94 Manila Conference in July 1994,as the logo of the Asian and Pacific Decade of Disabled Persons.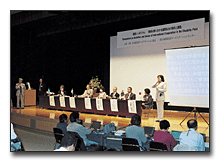 COOPERATION WITH JAPAN / UK RESEARCH AND DEVELOPMENT GROUP FOR AGING AND DISABILITY

With historical relationship and geographical similarities,Japan and UK are facing an arrival of a new era of society with the highest rate of elderly people ever since in their history. The two countries will gather and share the knowledge in support of the independent living of people with disabilities and elderly people for the dignity of individuals.
Main Projects

Exchanging human resources engaging in activities for health and welfare of elderly and disabled people.
Japan UK Seminar
Building information network
Developing joint research in order for supporting independent living in the community for elderly and disabled persons.
---