Cooperation with Organizations of Persons with Disabilities
PARTICIPATION AND COOPERATION WITH THE PROMOTIONAL COUNCIL OF THE NEW DECADE
JSRPD is one of the four member organizations of the"Promotional Council of the New Decade",and also works as its secretariat. In cooperation with the Council,JSRPD is involved in various activities such as holding seminars,making researches,and presenting opinions to the national/ municipal governments regarding the governmental plans and policies,etc.
PARTICIPATION AND COOPERATION WITH JAPAN COUNCIL ON DISABILITY (JD)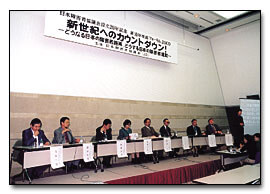 JD is a national umbrella organization. The organization's name has been changed to JD,and has continuously been promoting the awareness on disability even after UN Decade of Disabled People (1983-1992). The membership of JD counts 70,and the member organizations are national bodies representing various kinds of disabilities (e.g.,physical,intellectual,psychiatric,multi disabilities and illnesses). Other member organizations include disability-related entities such as parents,institutions,medical,scientific societies and so on. JSRPD has joined JD as an official member,trying to provide support for publishing "JD Journal" and other activities.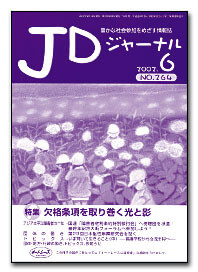 PARTICIPATION AND COOPERATION IN THE JAPANESE COUNCIL ON BROADCASTING FOR PERSONS WITH DISABILITIES
JSRPD is one of the nineteen member organizations of the "Japanese Council on Broadcasting for Persons with Disabilities",and also works as its secretariat. The main purposes of the Council are to make researches,present opinions on various aspects of broadcasting (including copyright issues),and to promote accessibility of information through broadcasting. This council consists of three committees as follows.
Copyright Committee
The Committee is active in making researches and presenting opinions to government / non-government agencies on copyright issues,and in creating harmony between copyright and a right to have access to information.
Barrier free Broadcasting Committee
The Committee gives awards for excellent TV programs and provides consultation to broadcasting stations in making programs concerning persons with disabilities,and promotes collaborations with broadcasting stations,enterprises,governmental agencies to realize broadcasting with closed captions,sign language,audio descriptions,etc.
Committee on Emergency Information
The Committee tackles problems on copyright and to ensure access to information for disabled persons in case of emergencies by realizing barrier free broadcasting such as easy-to-understand broadcasting for persons with cognitive and intellectual disabilities as well as persons with mental illness.

COUNSELING AND GUIDANCE TO STRENGTHEN THE ORGANIZATION OF PERSONS WITH DISABILITIES
In cooperation with the Promotional Council of the New Decade,counseling and training for enhancing the leadership skills are implemented.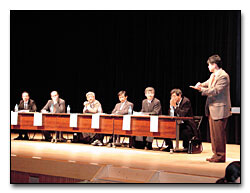 ---