Collection and Dissemination of Information on Disabilities
COLLECTION AND DISSEMINATION OF INFORMATION ON DISABILITIES
Rapid evolution of information technology and worldwide expansion of the Internet in recent years have reached to a point that people in the world may be divided in two parts : information rich and poor. It is expected that such situation may create more opportunities for persons with disabilities for independence and participation in the society only if the society and industry are well aware of the accessibility issues. The JSRPD Information Center has projects as follows to ensure the equal right to access to information and knowledge for people with disabilities.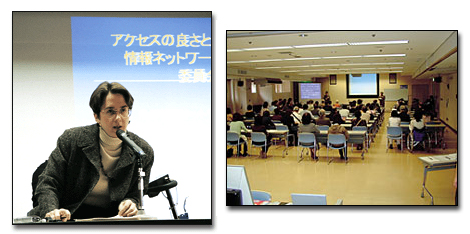 INFORMATION DISSEMINATION IN THE FIELD OF RESEARCH AND DEVELOPMENT FOR HEALTH,WELFARE,AND EMPLOYMENT OF PERSONS WITH DISABILITIES
http://www.dinf.ne.jp
The Information Center develops web contents and disseminates information world wide through the Internet in cooperation with international organizations,research institutes,international conferences,NGOs,etc. A collection of full text contents of research papers,policy statements,United Nations documents and publications,conference proceedings,international directories,etc. with full text search engine is offered to support research and policy making of disabilities concern. R & D for accessible multimedia networking technology such as DAISY has been specially focused on.
INFORMATION NETWORK FOR PERSONS WITH DISABILITIES(NORMANET)
http://www.normanet.ne.jp/
The NORMANET started its service for nation wide networking of and for persons with disabilities,originally through both so-called personal computer communications and the Internet in 1996 and completely through the Internet since 2000. With the implementation of its Internet functions including mailing list,web BBS,Video On Demand(VOD),the NORMANET has enhanced its accessibility for persons with disabilities. At the same time,the NORMANET has developed text-based DOS like browsers and e-mail software for those who have difficulties with graphical user interface. The NORMANET is also keen in promoting the use of computer communication among persons with disabilities,through its original training programs for people with disabilities including deaf-blind people.
DAISY DEVELOPMENT AND OUTREACH
https://www.dinf.ne.jp/doc/daisy/
DAISY (Digital Accessible Information System) has originally been developed by the DAISY Consortium (www.daisy.org) to set out an open digital book standard for the blind and other print disabled people. Since JSRPD Information Center has a leading role of the DAISY Consortium in developing its strategy for DAISY compliant synchronized multimedia networking that is accessible to everybody. DAISY authoring / playback software tools and DAISY compliant web browsers for non-vision navigation are major software products that it has been developing. The Information Center gives consultation to industry developing DAISY compliant devices such as solid-state recording device of pocket size. The outreach program of the Center covers education and training in both domestic and international scope in support of people with information disabilities including those in developing countries.
---